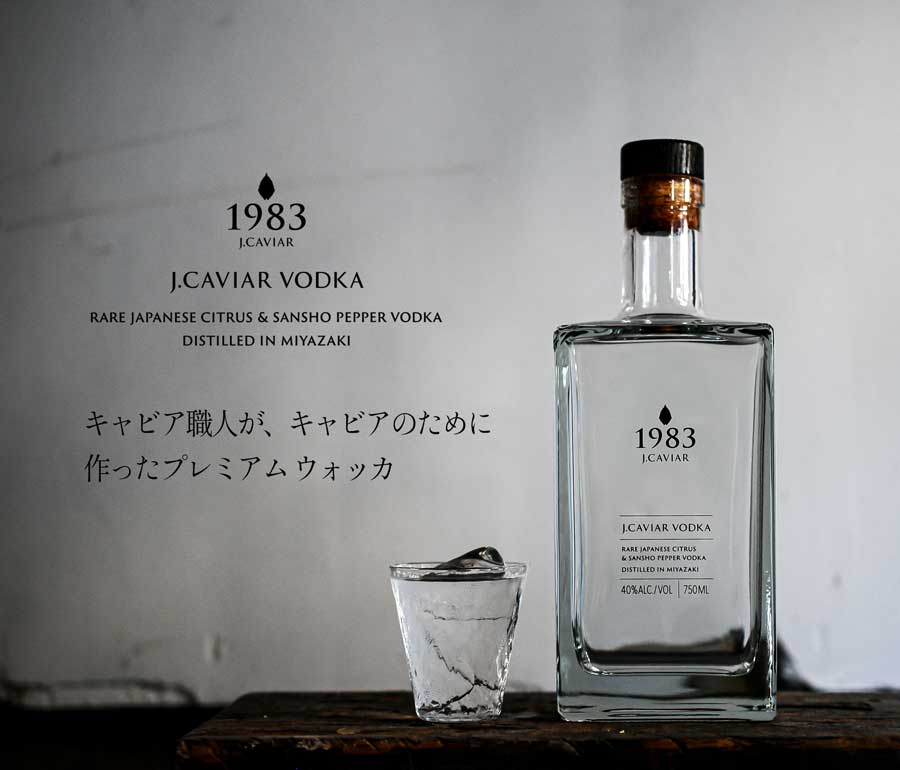 Premium artisan vodka specially crafted for caviar
Hyuganatsu and Hebesu, rare citrus fruits from Miyazaki and Sansho pepper from Kanja Sansho-en in Wakayama are soaked in alcohol, and then quickly distilled and extracted when the flavours are fully developed.
Elegant J.CAVIAR vodka is carefully filtered white birch charcoal and features a refreshing taste and a pleasant finish.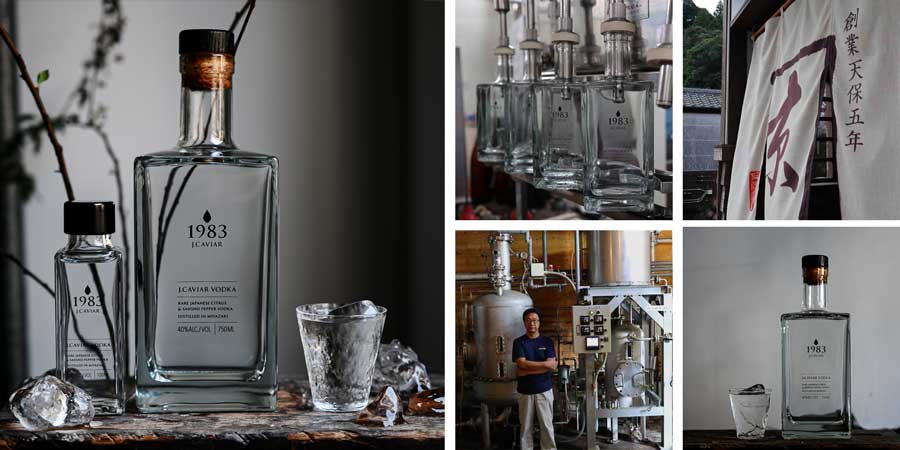 Straight
Room temperature

In spite of its 40% alcohol content, even at room temperature it has a very light fresh taste.

Chilled

In addition to the sweetness derived from the raw materials of the spirits, you can enjoy the natural aftertaste of the retrofitted botanicals.

Frozen

Less top notes but you can enjoy the authentic vodka taste. The flavour of Sansho is revealed in a slow aftertaste.
Cocktail
L'éclat 1983

J.CAVIAR VODKA 30 ml
St-Germain Elderflower Liqueur 15 ml
Fresh lemon juice 15 ml
Laurent-Perrier La Cuvée, as needed

Shake all ingredients together other than the champagne and pour into a champagne flute. Add the champagne slowly and decorate with one rose petal.

Spritz 1983

J.CAVIAR VODKA 30 ml
Fever-Tree Mediterranean Tonic Water 50 ml, Soda 10 ml
Lime cut into 1/8
Hyuganatsu Air

Squeeze lime into a tumbler with ice. Pour vodka, tonic water and soda. Top with Air made with Hyuganatsu juice.

Martini 1983

J.CAVIAR VODKA 30 ml
Dry sherry 5 ml
Herbal water 20 ml
L'Extrême d'Absente 1 drop

Stir all ingredients and pour into a cocktail glass. Decorate with fennel and pink pepper.
| | |
| --- | --- |
| Item | Spirits (Vodka) |
| Alcohol by volume | 40% |
| Volume | 750 ml / 100 ml |
| Place of origin of ingredients | Alcohol (Japan), Hyuganatsu (Miyazaki), Hebesu (Hyuga City, Miyazaki), Sansho (Wakayama) |
| Seller | JAPAN CAVIAR, Inc. |
| Manufacturer | Kyoya Distiller & Brewer Co.,Ltd. |
• Drinking under the age of 20 is prohibited.
• Drinking alcohol during pregnancy or lactation may adversely affect the development of fetus or infant.
• Be careful when opening the cap.
* Packaging, specifications and appearance of products are subject to change without notice.
| Cat. No. | Net Weight | Package type | Best before | Price | |
| --- | --- | --- | --- | --- | --- |
| JCVKA750 | 750ml | Glass bottle | – | ¥6,050 | |
| JCVKA100 | 100ml | Glass bottle | – | ¥1,210 | |
お急ぎの方はお電話ください

0120-886-863

9:00-17:00(Excluding weekends and holidays)